Martial arts increase your skills and they help you to get fitter. They also develop your awareness and help keep you calm.
Our Dojo
Aikido of London was established in 1994 by Ismail Hasan Sensei. The dojo aims are to teach Aikido to the public in an exciting and enjoyable way. This is achieved  through the daily sessions available in Archway, north London. Lessons are available in Aikido, Aikido weapons and Iaido (Japanese sword work). Classes are available for beginners, both adult and teens. In addition to the weekly schedule Aikido of London offers private individual classes and group and corporate workshops. Annual seminars held in Astor College Gym UCL (near Goodge St),  Burton, UK and Coruna and Barcelona in Spain offer opportunities to train without distraction and allow exchanges with other dojos . The dojo has international visitors from the USA, Brazil, France, Poland, Spain and Greece throughout the year. We also have a teacher training program for qualified individuals that meet the required entry standard. This will prepare the next generation of instructors and keep the training vibrant, inspired and relevant to this day.
Classes are open to anyone interested in training in Aikido of London and can contact the Dojo in order to try a session or to  view a class.
Ismail Hasan Sensei
Director and Chief Instructor
Various posts and articles are available at Upside Inside written and published by Ismail Hasan Sensei. The subjects range from training methods, Aikido and martial art in society to his experience as an Uchi Deshi "professional student" of the late T K Chiba Sensei.
We have collated a collection of reference videos as well as archive footage on the Aikido of London video platform. You can subscribe here to access all the videos including Aikido, weapons work Iaido and older archive of past seminars.
A collection of podcasts covering extensive subjects as Ismail Hasan Sensei and guests discuss all things Aikido, Iaido and beyond.
"A Dojo Culture that values quality and motivation to bring the best out of students. Challenge yourself today."
Aikido of London is a great place to learn martial art. If you want to train with a great team of students and high level instructors then this is the place for you. Beginners are welcome, adult or teens. Minimum age 7yrs old. Enroll in one of our 4 session beginners courses to get started. If you like it then join the dojo.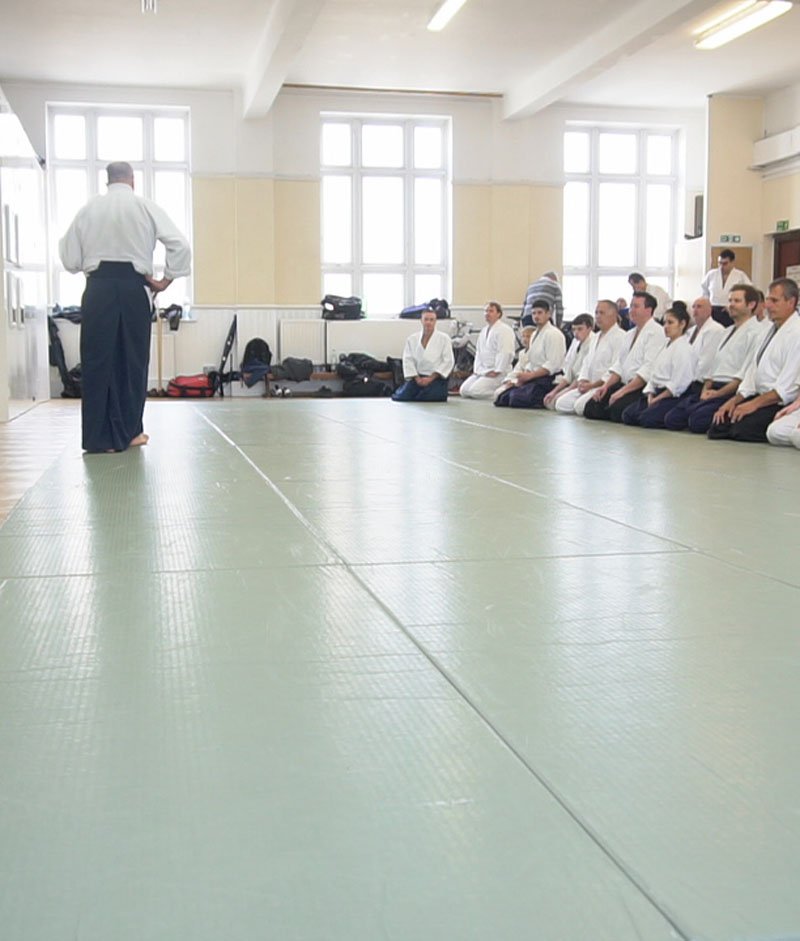 Who are Aikido of London?
In 1994, Ismail Hasan, established Aikido of London; it was a continuation of his study in Aikido and martial arts with a view to spread the benefits and enjoyment to the public of this fascinating martial art.
How do I start?
We have trial classes and beginners courses that give new people a chance to get a taste of training. You do not need experience, just your enthusiasm and a willingness to give it a go. There is more information throughout the site.
What should i wear?
For a beginners session a pair of jogging pants or similar will do and a long sleeve t-shirt. If you have a karate or judo suit then even better. Please keep your nails short and no jewellery and piercings - health and safety.
I want to be a member?
Once you have participated in your trial session or the beginners course, you can decide if you wish to continue. You can talk to the senior members and teachers about requirements and you can also email us and we will give you the information needed to become a member.
What about weapons training?
The Bokken and the Jo are the weapons used in Aikido and are an integral part of training. We encourage new members to start weapons training as soon as possible. First of all you need to get familiar with the basic training. This usually takes a few months before you can be considered for weapons training.
What is iaido?
Iaido is one of the oldest and most highly regarded of Japans martial arts systems. It is the art of the sword and takes time and dedication to understand. It is only available to established Aikido members who have shown an interest and committment to training.
Youth Training?
We cater for 11-17yr old teens. Classes are currently on Saturday 2-3pm and we are planning on weekdays soon. We believe Aikido is a great way for young people to train. It is good for them as the benefits carry on into their daily lives. It is an incredible counter to the static bodies that the internet, smart phones and playstations unfortunately encourage. Check the Children's page for more details or contact us if you have any other questions.
Culture?
Aikido of London has extensive experience in bespoke projects for various events and cultural activities. We have worked with the British Museum, Sekiro - A major computer game release, Goldman Sachs, Hyper Japan and other partners, arranging presentations, workshops and cultural exchanges.
If you are interested in what we have to offer then please contact us by email - [email protected]