Aikido is a Japanese martial Art suitable for men, women and children. Combining fitness, skill, mental focus and discipline.
We are back to normal contact training. Saftey precautions are still in place while we see how events unfold. If you have any concerns please contact us below.
Trial session or 4 Session Workshop – your choice
If you are thinking of training in Aikido then the beginners workshop is the best way to start. 4 sessions over 4 weeks are held on
Thursday 7pm-8pm
Saturday 11am-12pm
It is an opportunity to get a taste of what the training offers. You can also do just a single trial session if you prefer. You can book online anytime and once payment is received we will confirm your classes. All new applications also require formal registration and a completed waiver before any class can be attended as we maintain all health and safety guidelines to protect the public and the teachers.
Loose clothing will do for these – jogging pants and long sleeve t-shirt. No jewellery or piercings please.
4 session beginners works shop £50
Trial session £15
"A MARTIAL ARTS SCHOOL WHERE A GREAT TEAM OF TEACHERS WILL BRING OUT THE BEST IN PEOPLE. THEY WILL MAKE SURE YOU WILL WORK, SWEAT AND LOVE TRAINING."
Aikido of London takes training seriously. We work hard to make training a great experience. The atmosphere is creative while full with positive energy. While we value discipline and hard work we are also there to enjoy ourselves. We believe this is a great way to approach a martial art that will take you on a journey. Tradtional and modern in equal amounts our instructors will make you fitter, more focused and learn to remain calm. These are all useful qualities which can help us with life in general.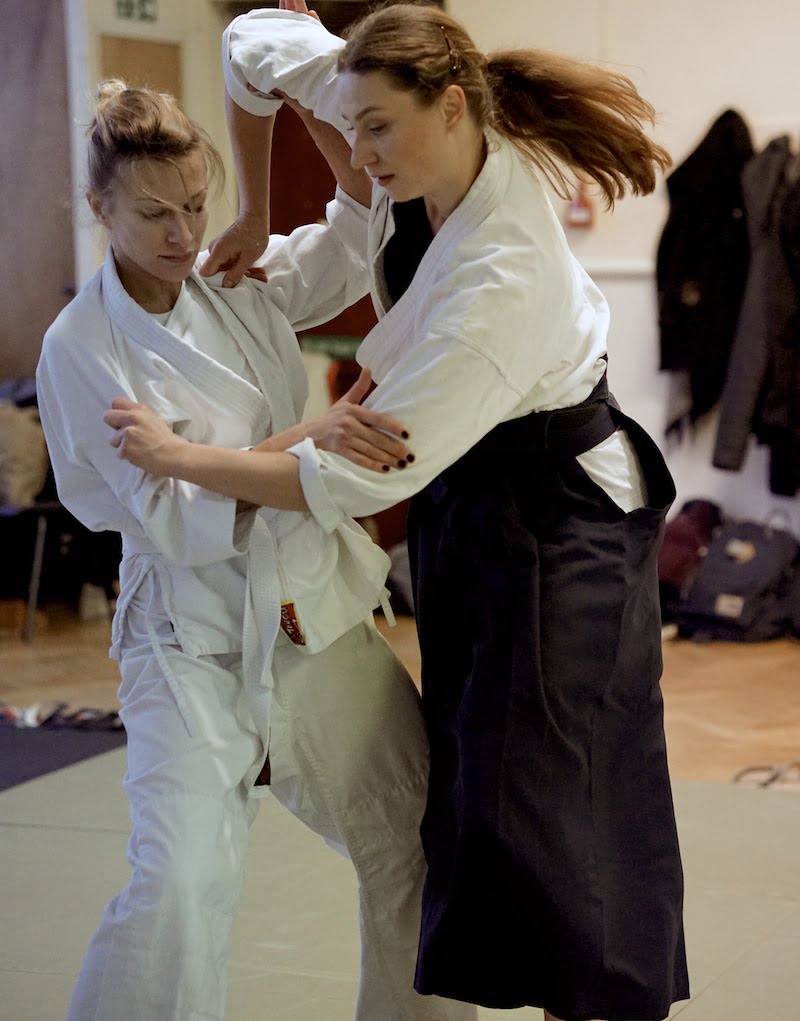 Who are Aikido of London?
In 1994, Ismail Hasan, established Aikido of London; it was a continuation of his study in Aikido and martial arts with a view to spread the benefits and enjoyment to the public of this fascinating martial art.
How do I start?
We have trial classes and beginners courses that give new people a chance to get a taste of training. You do not need experience, just your enthusiasm and a willingness to give it a go. There is more information throughout the site.
What should i wear?
For a beginners session a pair of jogging pants or similar will do and a long sleeve t-shirt. If you have a karate or judo suit then even better. Please keep your nails short and no jewellery and piercings - health and safety.
I want to be a member?
Once you have participated in your trial session or the beginners course, you can decide if you wish to continue. You can talk to the senior members and teachers about requirements and you can also email us and we will give you the information needed to become a member.
What about weapons training?
The Bokken and the Jo are the weapons used in Aikido and are an integral part of training. We encourage new members to start weapons training as soon as possible. First of all you need to get familiar with the basic training. This usually takes a few months before you can be considered for weapons training.
What is iaido?
Iaido is one of the oldest and most highly regarded of Japans martial arts systems. It is the art of the sword and takes time and dedication to understand. It is only available to established Aikido members who have shown an interest and committment to training.
Youth Training?
We cater for 11-17yr old teens. Classes are currently on Saturday 2-3pm and we are planning on weekdays soon. We believe Aikido is a great way for young people to train. It is good for them as the benefits carry on into their daily lives. It is an incredible counter to the static bodies that the internet, smart phones and playstations unfortunately encourage. Check the Children's page for more details or contact us if you have any other questions.
Culture?
Aikido of London has extensive experience in bespoke projects for various events and cultural activities. We have worked with the British Museum, Sekiro - A major computer game release, Goldman Sachs, Hyper Japan and other partners, arranging presentations, workshops and cultural exchanges.
If you are interested in what we have to offer then please contact us by email - [email protected]